on

This is a recipe that comes from my Mother In Law. (I've done a quick and easy version by using Sam's chicken salad and just adding the nuts and grapes ~ which was good)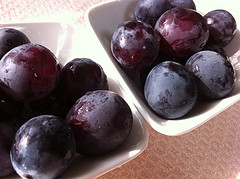 Here's what you need:
4 cups chopped chicken
3 cups wild rice
Mix it up in a large bowl.
2/3 c mayo
1/3 c milk
2 to 3 tbsp lemon juice
1/2 tsp salt
1/4 tsp tarragon
1/8 tsp pepper
Mix that up in a small bowl.
What you do:
Pour the mixture from the small bowl over the chicken and toss to coat.
Cover and refrigerate for 2 to 3 hours.
Just before serving fold in grapes (cut in half long ways) and sprinkle with cashews.
(The amount of grapes and cashews you use is totally up to you, but they're what make the salad super yummy.)
Republished by Blog Post Promoter