Posted by
Nov 15, 2017
in
Crockpot Chicken
|
0 comments
on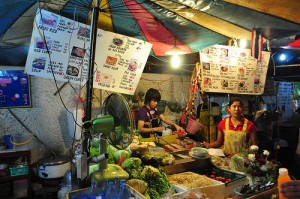 I don't eat a lot of Thai food, and this probably isn't your typical Thai Chicken recipe, but it is delicious, and super easy. This Thai chicken recipe is actually done in the crock pot.

The original recipe called for chicken thighs, however, I didn't have any on hand and had just picked up a 5 pound bag of chicken quarters on sale. I used chicken quarters for this dish and it was great.
Thai Chicken Recipe for the Crockpot
What you need:
4 chicken quarters (or 8 chicken thighs)
1/2 c chicken stock
1/4 c peanut butter
1/4 c soy sauce
2 tbsp chopped cilantro (fresh)
2 tbsp freshly squeezed lime juice (I squeezed one whole lime)
1/2 tsp hot red pepper flakes (you can use a fresh hot chili pepper seeded and finely chopped)
1 tsp ground ginger
1/4 c chopped peanuts or cashews (I totally forgot to add these oops)
chopped fresh cilantro for garnish
What you do:
Place your chicken in the bottom of the crockpot. (frozen is fine).
In a bowl combine the stock, peanut butter, soy sauce, cilantro, lime juice, red pepper flakes, and ginger. Mix well and pour over the chicken.
Cover and cook on Low for 6 to 8 hours, until juices run clear.
Serve garnished with chopped nuts and a little extra cilantro.
Make it a meal:
I found some locally grown fresh green beans that day at the store. I steamed them, and served the chicken over rice. There was plenty of sauce to give the rice lots of flavor and the green beans were a great match. (I had forgotten how much more delicious fresh green beans are!!)
What did we think:
I thought it  was fantastic!! I thought the flavors were wonderful. Combined with the rice and green beans it made a delicious meal. Hubby shrugged ~ he's more of a steak and potatoes kind of guy though ~ so it was to be expected. He did eat it.

The little one. She loved it and asked for seconds.
Republished by Blog Post Promoter