on

It doesn't sound that good in the title, but it was DELICIOUS!! and so simple.
What you need: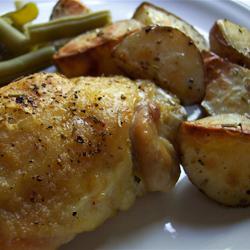 chicken thighs or quarters
1 squash (we used acorn but butternut would have worked too)
6 small red potatoes (or more)
rosemary
oregano
garlic powder
salt
pepper
olive oil
What you do:
Preheat your oven to 375 degrees.
Cut your small potatoes in half or quarters (depending on the size of bites your family likes)
Cut your squash. I cut mine in half, seeded it, then cut it along the crevices. I then peeled it with a potato peeler. I didn't know if it was going to work but it worked great. Then just cut it into pieces the same size (about) as my potatoes.
Throw the veggies in a bowl.
Toss with a little olive oil.
Put the chicken pieces in a large roasting pan.
Put the veggies in the pan all around the chicken.
Brush chicken with a little olive oil.
Sprinkle with spices.
Put it in the oven, uncovered for 1 hour.
Baste the last 15 minutes with the juices in the pan to make it really crispy and yummy.
Serve and enjoy!
What did we think?
I wasn't sure how this was going to turn out, but the last 15 minutes of basting made all the difference in the world. The chicken was crispy the flavors were fantastic. I thought it was stunning. Hanna ate a bit of all of it, but didn't seem all that impressed. Hubby was irritated I was trying to get him to eat squash again, but ate the chicken and potatoes.

Republished by Blog Post Promoter