on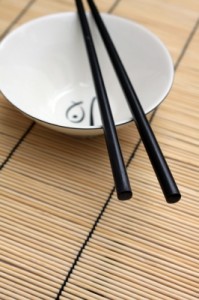 This is a tasty salad that's easy to make, especially if you used prepackaged lettuce and cabbage. It's great for an entire meal, or even to take to a potluck. I love salad with chicken and this is a nice departure from my usual chicken salad. You can used canned chicken or even leftover chicken you have in the fridge. You can also add and substitute to really make this recipe your own.
Oriental Chicken Salad
serves 10
What you need:
1/2 cup vegetable oil
1/4 cup sesame oil
5 tablespoons seasoned rice vinegar
3 teaspoons soy sauce
3 (3 ounce) packages chicken flavored ramen noodles
1 bag shredded cabbage
1 bag iceberg lettuce
1 bunch green onions, chopped
12 ounces canned chicken, drained
1/2 C toasted sesame seeds
3 tablespoons chopped fresh cilantro
What you do:
In a pan mix together the vegetable and sesame oil, as well as the rice vinegar, soy sauce, and seasoning packets from the Ramen noodles. Bring to boiling and then refrigerate.
Mix together in a large bowl, the cabbage, lettuce, green onions, chicken, sesame seeds, and crushed noodles.
Once it's cooled, pour the dressing over the salad. Do a little at a time mixing in between to taste.
Make it a meal:
This is a fantastic meal all on it's own. You certainly could add mandarin oranges or even pineapple to this salad for some extra flavor and to add some fruit to the salad.  You could also add some chinese noodles to this dish.
What did we think:
I must say I was a little skeptical about raw noodles in this salad, but it came out good. I added the sesame oil just to give it a little more oriental flavor, the original recipe was a little  bland. All in all it was really good. I'd take this to a family potluck, and it's a quick meal to put together for dinner.
Republished by Blog Post Promoter