on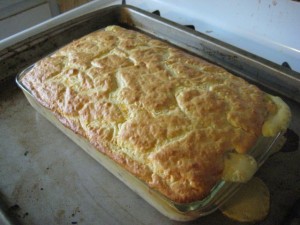 I thought up this recipe after buying a box chicken and biscuit dinner. It was ok, but had some issues. There was almost NO stuff in it, so it didn't end up being a very satisfying meal. However, while I was eating it I thought it would be really good if I used my Chicken Pot Pie filling recipe. From there I thought I could just make a biscuit mix for the top.
So tonight's the night.
What you need:
Filling:

2 or 3 cooked boneless chicken breasts (cut into chunks)
1 can cream of potato soup
1 can cream of chicken soup
Biscuits:
1/2 c shredded cheddar cheese
What you do:
Cook your chicken and cut it into chunks. You could also use shredded rotissiere chicken or leftover chicken or even turkey. Put the chicken in the bottom of a 9X13 baking pan.
In a bowl combine the soups and stir. Stir in the veg all and stir.
Pour veggies and soup over the chicken and stir.
In another medium bowl combine 2 cups baking mix, 1 cup milk, 2 eggs.
When mixed together stir in dash of garlic powder and 1/2 c shredded cheddar cheese.
Pour the biscuit batter over the chicken.
Bake at 400 degrees for 30 minutes or until biscuits are golden brown.
What did we think?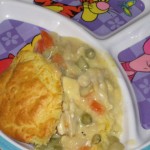 The timer dinged while I was in the middle of writing this post. Which was nice because I was able to get pictures AND we got to eat. Delicious!! The biscuits are perfectly cooked, not gooey at all. Plenty of stuff for everyone to eat underneath and just yummy yummy yummy! Perfect fall weather food.
** As you can see from the picture I had a little overflow so it would probably be wise to put a cookie sheet under your baking dish to catch any overflow.
Make it a Meal:
Personally this is a perfect meal for me. Everything all in one place, one pan, minimal mess and clean up. A nice glass of milk and you're good to go.
Republished by Blog Post Promoter